The Shade Factory is an authorized dealer of Hunter Douglas window treatments, including the selling of their silhouette sheer shades. Sheer shades get their name by the fabric they use, which is sheer and semi-opaque. Due to the S-shaped fabric vanes of these shades, they allow for gorgeous lighting in any room. And you can get as some daytime privacy, too. Purchase sheer shades as vertical shades or horizontal shades.
Picking the right shades will ultimately depend on where you are planning on putting them. Different types might be best for certain areas. With our years of experience at the helm, our staff will work with you to make sure you get the exact size and color of silhouette sheer shades you want. Making sure they are the perfect option for your home, office, or anywhere you are deciding to use them.
Key Features & Enhancements of Hunter Douglas Silhouette Sheer Shades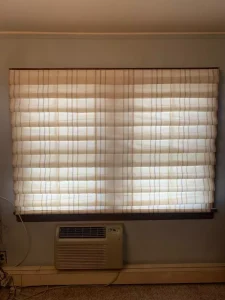 These silhouette sheer shades let people enjoy filtered lights and a daytime view. All while maintaining a sense of privacy. Here are some of the key features and enhancements you will find by using silhouette sheer shades from Hunter Douglas.
Soft radiance due to the one-of-a-kind Hunter Douglas design.
Superb daytime privacy by simply tilting the fabric vanes.
Get effective light control by moving and tilting fabric vanes.
Easily manage the light throughout the day with silhouette halo window shadings.
UV protection that keeps furniture and flooring from fading due to exposure from the sun.
A coordinated look for both horizontal and vertical window treatments.
Vane sizes: 2", 3" or 4."
Optional Enhancements with Shades
Get some nice optional enhancements with the silhouette sheer shades from Hunter Douglas, which includes the following:
Exclusive fabrics.
Superior view-through sheers.
All-in-one light control and room darkening.
Three Reasons to Love Silhouette Sheer Shades
One-of-a-Kind Design
Adjustable S-shaped fabric vanes float between sheers, which creates a gorgeous, diffused light. 
A Superior View with Privacy
These shades provide an exceptionally clear view to the outside, while still effectively obscuring views in your space. 
Darkened Rooms
Create a darker room when you need it with silhouette sheer shades from Hunter Douglas.
Custom Silhouette Shades
The Shade Factory is an authorized dealer of Hunter Douglas window treatments, which includes these silhouette sheer shades. We offer customers a great selection of Hunter Douglas products to choose from where they can opt for more custom features. Our staff knows the right window coverings can completely transform the look and feel of any space. And we pride ourselves on the professionalism and courteous service we provide. Call today to schedule an 0n-site, in-home, or virtual consultation.
Whether you're a homeowner, contractor, designer, building manager or facilities options department, we can help you choose custom-made window treatments to get the look you want. We offer shades, blinds, shutters, tinting, draperies, valences and more, custom-made to your specifications.